The importance of establishing a workstation that effortlessly integrates comfort and health cannot be emphasised in the ever-changing world of modern work. As we negotiate the pressures of our working life, the function of an important but sometimes disregarded component becomes clear: the office chair. These hidden heroes of the workplace play an important part in our everyday lives, providing ergonomic assistance that goes beyond sheer convenience to improve our entire well-being.
The link between ergonomic design and our physical health has never been more obvious. The difference between a productive, pain-free day and one defined by discomfort and exhaustion can be determined by the office chair. The pursuit of ergonomic perfection in this drive for workplace comfort has resulted in the birth of a broad array of chairs, each promising to satisfy specific demands and give the ultimate answer for those seeking both style and substance.
So, whether you are looking for an ergonomic throne to support your long work hours or want to cure chronic back pain, come along with us as we explore the world of ideal sitting. Let's look at the greatest office chairs for comfort and health, and see how ergonomic design can genuinely improve the way we interact with our workspaces.
1. RH Logic 400.
Designed for human performance, the RH Logic 400 is manufactured with complete comfort in mind. Developed with a large back, the Logic 400 comes as standard with castors making it ideal for soft floors and base in silver aluminium for a stylish finish. Enhance your chair with a range of options and accessories. Adjustment controls are easy to understand reachable and visibly while seated.
Product Features
• Comes with castors as standard
• Silver aluminium base
• Large back
• Number of add-on options
• Adjustable back rest angle
• Frictionless tilt mechanism
Shop For RH Logic 400 Ergonomic Chair
2. ErgoHuman Elite.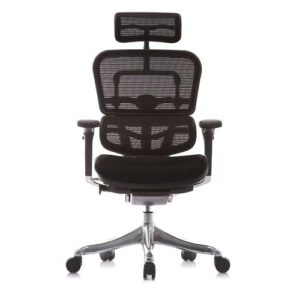 The Ergohuman Elite is a market leader when it comes to comfortable seating in the workplace. Offering luxury features, it has an ingeniously simple single lever control which operates the three most frequently used chair functions from a single point of contact (seat height, seat depth and back tilt). Arms are cleverly integrated into the rear of the mechanism to allow closer-to-desk working if needed.
Product Features
• Single lever control
• Twin pivot control mechanism
• Dual spring technology
• Seat slide
• Enhanced waterfall front
• Seat pressure reduction insets
• Automatic lumbar support
• Locking height, angle, width and depth armrest adjustments
3. Mirus.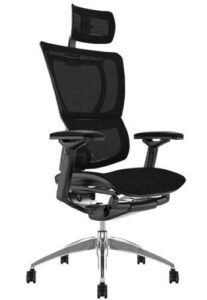 The Mirus chair takes ergonomic comfort to new levels. With exceptional back support, it has been developed to fit and support the body and spine, allowing the user to stay comfortable for long periods. Thanks to their most advanced and unique lumbar system to date, the Mirus offers full support for the upper and lower back to encourage and maintain the correct posture.
Product Features
• Exceptional back support
• Advanced and unique lumbar system
• Upper and lower back support
• Patented single lever control
• Aluminium detailing
• Black or white frame options
• Single lever control
• Twin pivot control mechanism
4. HAG Capisco
The HAG Capisco 8106 Chair is perfect for those who want something a little different. With a HAG Capisco 8106, you can sit equally well forward, backwards or sideways, and you have a wide reach. Perfectly designed for adapting to work surfaces at different heights or to height-adjustable worktables.
Product Features
Capisco allows fantastic freedom of movement and variations of natural seating positions
Sit equally comfortably facing forward or turned to the side, allowing a broad reach
Unique back design also allows a comfortable and stable rear facing position
When used rear facing the back panel supports the chest area and the cross section supports the arms
Used in rear facing and semi-standing position by dentists, doctors and surgeons
5. Activ Intro 550
High performance, maximum adjustability… Providing long term posture solutions to all users in all environments. Distinctive, unique total ergonomic comfort when support is required for long periods. Quattro has enhanced profiles to ensure perfect body contact throughout. Quattro supports the 4 principle spine curves throughout the working day; cervical, thoracic, lumbar and pelvic.
Product Features
• 4-lever independent mechanism
• Additional forward seat tilt
• Integral seat slide 50mm
• Ratchet back height adjustment
• Extra high tri-curved fully upholstered backrest
• Flex-front seat
• Inflatable lumbar support
Conclusion
In today's world of contemporary work, where comfort and health have become inseparable, the search for the ideal sitting solution has never been more important. As we say goodbye to our tour into the realm of ergonomic perfection, it's apparent that the champions of 2023 have permanently changed the landscape of office chairs.
These best office chairs, hand-picked for their unrivalled comfort and health advantages, have evolved into more than simply pieces of furniture; they have become partners in our daily work adventures. They have emerged as defenders against back discomfort and posture dangers, taking our workplace comfort to new heights, thanks to their ergonomic designs and steadfast support.
So, whether you're an ambitious efficiency specialist, a creative visionary, or simply someone looking for a break from the digital age's demands, remember this: your sitting counts. Let us carry the wisdom of comfort and health with us as we continue to construct our workspaces and lives with the same care and precision that these top five ergonomic chairs of 2023 have bestowed upon us as the curtains close on this study of ergonomic transformation.
Here is to a future full of healthy backs, creative brains, and a society where ideal sitting is no longer a luxury, but a standard we all deserve. As we say goodbye to this chapter, may your workstation become a sanctuary of comfort and your path to the peak of ergonomic design be beneficial. Cheers to a world where sitting is a joy and a gift, and where striving for excellence leads to a brighter, more ergonomic future.
Get in touch with us to help you select the best chair that meets your requirements.