Ergonomic Solutions
It's a fact these days that the large majority of the working population are spending long hours sitting in front of a computer for our jobs. This modern era of technological progress has caused an abrupt change in working society to keep many of us behind a desk for up to 8 hours a day, with little or no breaks in routine or posture. This digital revolution has led us to becoming a more static population, and studies are overwhelmingly showing that sitting all day at a desk isn't good for you in a variety of different ways.
Not only is sitting all day responsible for things like high blood pressure and heart disease, it's also responsible for a whole host of other minor niggles and muscular pains that could lead to long term pain and discomfort.  Common symptoms are muscle tightness, limited range of motion, low back aches and knee pain. Sitting all day can cause tight hamstrings, pectoral muscles and hip flexors, which is a recipe for back pain and bad posture.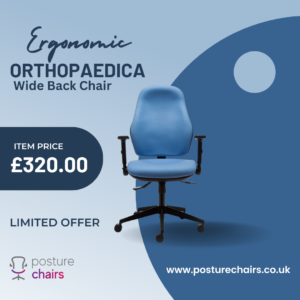 Those who sit at a desk for long periods of time tend to hunch their shoulders and head forward, causing tight chest muscles and weaker upper-back muscles. The hip flexors on your upper thigh also shorten while sitting and pull the pelvis forward, causing lower back pain. People with this type of muscular imbalance typically stand or sit with the head pulled forward and the back rounded. This type of poor posture is called kyphosis.
Knee and hip pain can also result from muscular imbalances in the legs. When sitting for long periods of time, many women will cross their legs, and over time, this can cause the muscles in the inner thighs to become tight. When the inner thighs become too tight, they can begin to rotate the femur bone (thigh bone), which can lead to knee pain. Conversely, men typically have the opposite problem. Because men sit with their legs in a more open position, the outer thigh muscles can become tight, causing sciatic pain (pain down the back of the leg).
While people continue to have these unhealthy experience at work, it is exciting to know that there is a solution that can put an end to it and that is a display screen equipment assessment.
DSE Assessment
A dse assessment can be simply referred to as a workspace inspection by an expert dse assessor. These inspections range from assessing your ergonomic chair, desk, monitor, keyboard, mouse, lighting, cables and wires. If ergonomic issues are identified, our assessors will provide training and guidance on how to set up and maintain your work stations and if there is a need for an ergonomic equipment, it will be professionally recommended. In addition, a comprehensive report is will be handed over to the employee for compliance and future reference.
At Posture Chairs, we offer professional and comprehensive face to face dse assessments, remote or virtual dse assessments and software based dse assessments which is also referred to as self dse assessment. Our expert assessors are always a call away should you need our services.
If you prefer emails, kindly fill the form below and we will be in touch with you in a matter of minutes.
Frequently Asked Questions: